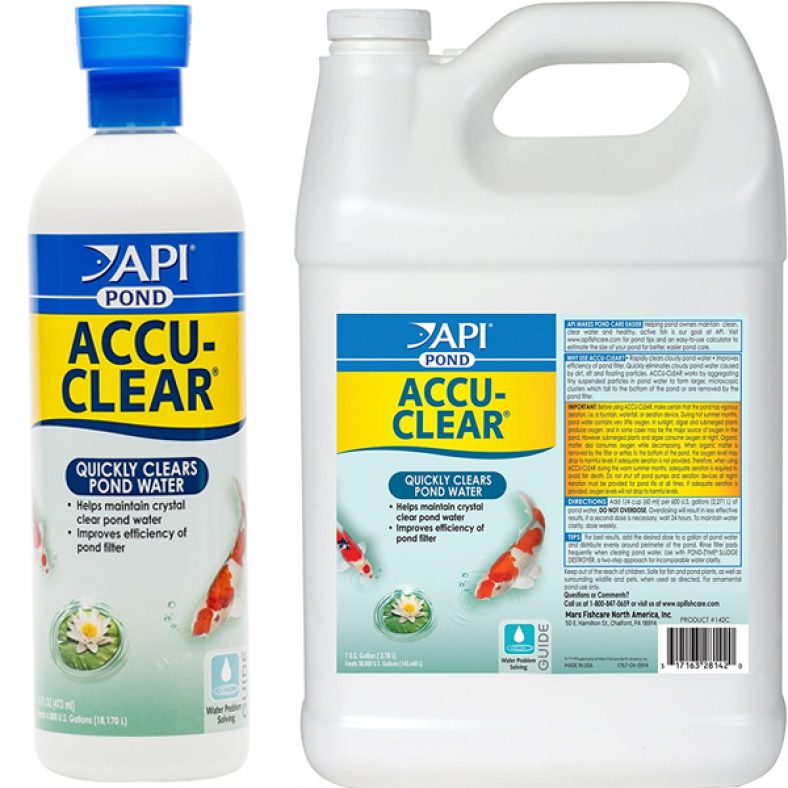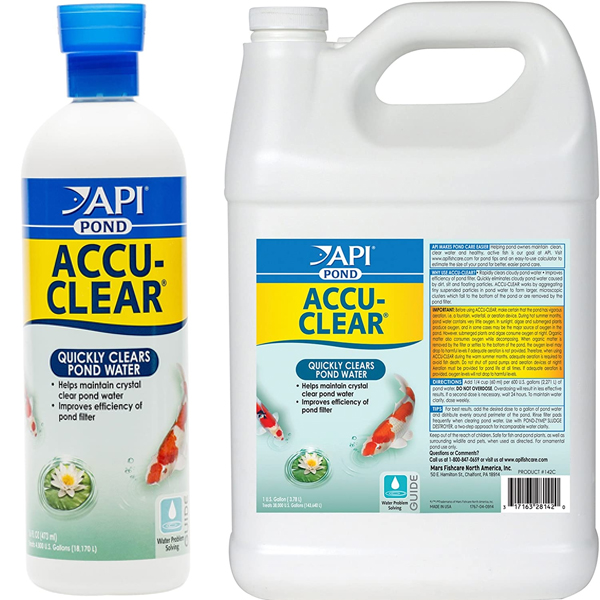 Your pond tends to get messy, especially in garden setting. Ponds have higher levels of interaction with the environment, when compared to aquarium tanks. There is disbursed dust that is distributed all around the pond. Some of the dust particles are visible, while some are not. Small sized dust particles are very difficult to get rid of. Unless they don't form as a sizeable cluster, you can't remove them manually. Dust particles primarily originate from external environment. Besides that, fish feed, medications and water treatments contribute to dust too. To allow dust to form into clusters, you need products like API Pond ACCU-Clear Water Clarifier. They work awesomely to treat cloudy water in large quantities. We are talking tons and tons of gallons here. Many of you may want to know is accu clear safe for the fish? In this post, we will review an amazing product which makes the water clear in quick time. Check the API Pond ACCU-Clear Water Clarifier on amazon here: https://amzn.to/3nd9uJI
API Pond ACCU-Clear Water Clarifier
ACCU Clear from API helps maintaining crystal clear ponds, while improving efficiency of filters. It eliminates the cloudy situation caused by pollutants like dirt, silt and floating particles, in really quick time. By the end of second dose, water starts looking like clear glass. In effect, it aggregates tiny particles to form larger clusters which can be caught by pond filters. For routine use, use it on a weekly basis. In addition, you can treat fresh water ponds, when water gets cloudy. 3.78 Liters of ACCU Clear treats up to 38,000 U.S gallons of water.
About the Brand
The brand value on ACCU-clear counts as a huge plus. API has got a solution or two, for every pond related problem. From Sludge destroyer to Stress Coat to Algaefix to bacteria clarifier, they have it all. In addition, fish food, water salt and plant food tablet are added to their catalogue.
The API Master Test Kits is a must-have for any pond. The premium pond testing kits puts you up to pace, in regards to pond maintenance. You can rectify issues as early as you should. Even when the issues start to develop, your pond and fishes may look all healthy and fine. With API, you do not have to worry about such intricacies. Diagnosis and treatment of issues becomes more like routine.
Some of the pond products double up as tank solutions too, when used in higher concentrations. Nevertheless, API pond products comes with such packaging that makes them suitable for storing in garage or garden shed. Check with the manufacturer before using any of the Pond products on aquarium tanks.
Work on the filters…
The active ingredient in API Pond ACCU Clean is proprietary formula of API. It combats the toughest of mess that clogs pumps and filters. Once the debris is broken down, it can easily be removed by the filter. Being a flocculent, ACCU Clear makes the particles to clump together. For the water to be cleared completely, you are also dependent on filtration. Consider adding a micro-filtration pad to the filter. Alternatively, you can use any finer filter media. If the clumped up cloudiness exceeds the normal limit, clean the micro-filtration pad, a day after using ACCU Clear to treat pond.
Sale
API POND ACCU-CLEAR Pond Water Clarifier 16-Ounce Bottle
Contains one (1) API POND ACCU-CLEAR Pond Water Clarifier 16-Ounce Bottle
Helps clear cloudy pond water of dirt, silt and floating particles
Clumps floating particles into large clusters that can be easily removed by a pond filter
Works quickly and improves the overall efficiency of your pond filter
Use weekly or when cloudy water is observed in freshwater ponds
Safe for aquatic life and wildlife
ACCU Clear is not harmful to fish, turtles and aquatic plants. Also, it doesn't affect the bacterial bed in your pond, especially around the filter. When using in conjunction with Pond Zyme, it helps ensuring the safety of aquatic plants. It doesn't even kill beneficial bacteria in the pond. Definitely, the API Pond ACCU Clear is safe for fishes in your aquarium. However, we don't suggest using it for aquarium tanks. Since outdoor ponds develop algae that turn the water green, ACCU Clear is formulated perfectly for that. It may not be as effective and beneficial for aquariums.
How to ensure API Pond ACCU-Clear Water Clarifier works efficiently?
ACCU clear alone cannot ensure clean water. You need good filtration, bacterial bed and water changes too. You need to follow pet specific practices as well to keep the water clean. For instance, turtle food can make the water dirty. Hence, while feeding turtles, keep them in a small plastic tub and dump water when done. More importantly, follow the instructions in the label. Pay close attention to the dosing details to avoid a harmful overdose.
Dosage details
The suggested dosage is 1 ml for every 38 Liters. Similarly, 5 ml and 10 ml can treat up to 190 L and 380 L respectively. If problem pertains, give it another dose. Space out the first and second dose at least by 24 hours. If you feel a second dose is necessary, wait at least 24 hours. Do not overdose, since it makes the treatment ineffective. Each table spoon measures 15 ml of the solution. Measuring by cap threads is more precise and convenient. For best results, apply around perimeter of the pond.
Product details
API Pond ACCU-Clear Water Clarifier comes in four different sizes –16 ounce, 64 ounce, 1 Gallon and Bundle Pack. The product dimensions are 6.8" x 12" x 26.3" and weighs 3.25 lbs. They offer both standard packaging and frustration free packaging. With all the packaging, the shipping weight is 5 lbs.
Pros
Drastically change water quality within 2 days
No known side effects
Improves filtration system
Safe for domestic pets & wildlife
Cons
Demands good filtration system for best results
Needs adequate aeration in summers
Conclusion
API Pond ACCU-Clear Water Clarifier works like charm in maintaining crystal clear ponds. Within 48 hours of dosing, the coloration of the pond changes drastically. By second dose, you are guaranteed to see the bottom of your pond so clearly. However, you need to be a little concerned with dosing. Even a little overdose makes the product ineffective. Moreover, you shouldn't use the product too often. Treating an already clean pond with ACCU Clear causes a cloudy situation. Though its mostly compromised of natural ingredients, treat it like a chemical.
Bottomline: With a good filtration system, bacterial bed and water change routine, API Pond ACCU Clear works like magic.
I hope you liked this review.Please do let me know your thoughts in comments! Also do Check out my review on Seachem Pond Prime Water Conditioner
API Pond ACCU-Clear Water Clarifier
USD
Pros
Drastically change water quality within 2 days
No known side effects
Improves filtration system
Safe for domestic pets & wildlife
Cons
Demands good filtration system for best results
Needs adequate aeration in summers