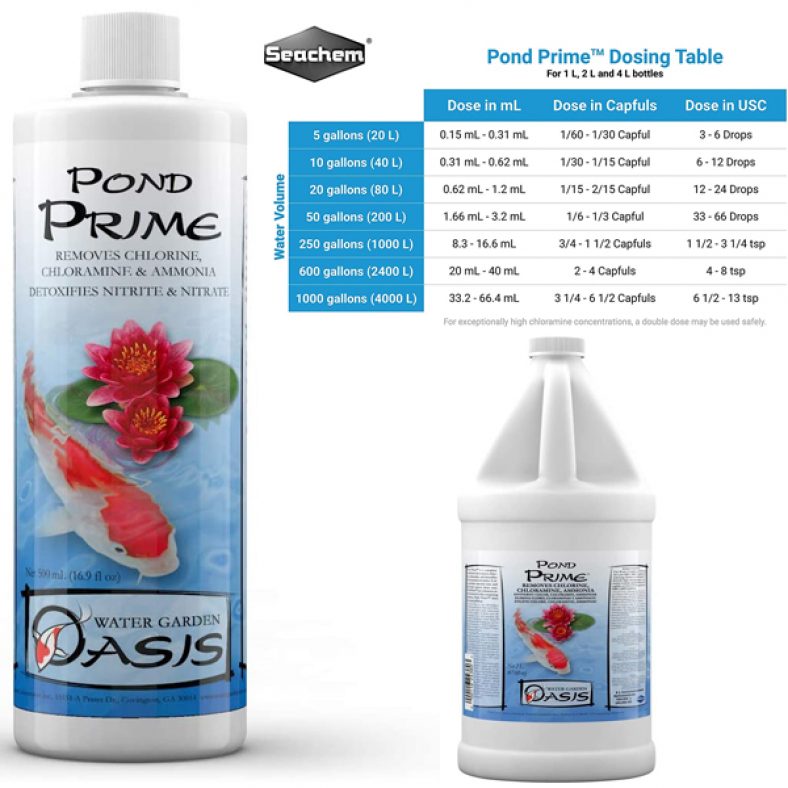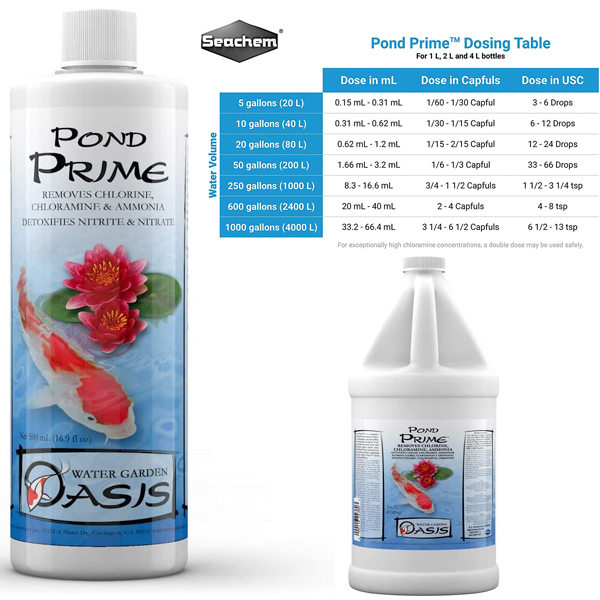 Maintaining a pond throws up another level of challenges. Ponds contain tons, if not thousands of gallons of water. Its interaction with the environment is massive compared to tanks. When treating the water for any issue, you are dealing with tons and tons of gallons. Unlike tank, you can't empty pond all the way to its half way mark. If you are following the same set of instructions as with tanks, you are going to end up spending fortunes. What we need is pond specific products. One such immensely helpful water conditioner for pond is the Seachem Pond Prime Water Conditioner. We will discuss all the significant aspects to it, in this detailed review. Here is the link to the product on amazon: https://amzn.to/3r1fWoo
Seachem Products
Seachem is a household name in the fishkeeping community. The hobbyists trust only a few other brands including API, Fritz, Marine Land, Hikari and Kusuri. Seachem is managed by a team of hobbyists. Everyone working at Seachem owns an aquarium at homes. The company was founded by an aquarium enthusiast, Dr. Leo G. Morin. Since his first product, Cupraplex launched three decades ago, the company is working around the clock to provide solutions to aquarists' problems. Prime is currently the flagship of the Seachem brand. However, there are two versions to it, besides Seachem Safe. Regardless, all of these products have almost the same chemical composition. Seachem Safe is the more or less, the powdered version of Seachem Prime. Seachem Pond Prime is just traditional Prime packed and concentrated to suit the needs of the tank. We will dive into the concentration fiasco in Seachem Pond Prime vs. Seachem Prime section.
What Seachem Pond Prime does?
Seachem Pond Prime does pretty much the same set of things, Seachem Prime does. Firstly, Pond Prime delivers the essential ions to promote slime coat in fishes. We can't overemphasize on the importance of slime coat towards fending off parasitic infections and infestations. Secondly, Pond Prime removes all the chlorine and chloramines from tap water. A dosage of 2 teaspoons per 700 US gallons is sufficient for this purpose. Thirdly, it detoxifies ammonia and nitrate concentrations in your pond. The dosages could double, triple or even quadruple, when treating your pond for concentrations of ammonia.
Seachem Pond Prime Water Conditioner vs Seachem Prime Water Conditioner
The common misconception is that Seachem uses increased concentrations in Pond Prime, when compared with Prime. Well the air has been cleared lately after prolonged lack of clarity in the fishkeeping community. For starters, the concentration or formula of both Pond Prime and Prime is exactly the same. Seachem advises on lowered dosage for ponds since the open system of ponds allows more chlorine to gas off from the surface. Simply put, Pond Prime is not heavily concentrated than Seachem Prime. For instance, you can use Pond Prime and traditional Prime interchangeably in both ponds and tanks. The dosage alone is what matters really, besides economical factor. We will dive straight into the critical dosage information for ponds.
Seachem Pond Prime Water Conditioner Dosage details
The thumb rule is you have to dose 0.15~0.31 ml per every 5 gallons of water volume. It translates roughly to 3-6 drops of dose in USC. Realistically, you need to dose 20~40 ml for a 600 gallon pond. It translates to 2-4 capfuls or 4-8  tsp. Similarly, a 1000 gallon pond will require 33.2~66.4 ml i.e. 3.25~6.5 capfuls. The idea is to double the dosage while treating for ammonia or keep it minimal while treating for chlorine. Nevertheless, extremely high chloramine concentrations require double dosage for safety. We suggest measuring in capfuls because its more precise and convenient in day to day usage.
Packaging
Seachem Pond Prime Water Conditioner comes in larger cans than traditional prime. It has a handle offering maximum comfort when carrying it around. The cap doubles up as measuring device with each thread in the cap measuring certain milliliters. Storage of the can can't be any easier. Seachem Pond Prime looks suitable to be stored in a garage or shed in backyard. It can be kept closer to the pond. It is easy to drop in the cap via the rounded nozzle. Pond Prime comes in four different quantities – 1 Liter, 2 Liter, 4 Liter and 500 ml. Directions of use is clearly mentioned in the label. If your product came without a proper label, contact your supplier. The product dimensions of 2L can are 3.2" x 5.8″ x 9.5″ and it weighs a little over 4.5 lbs.
Economical quotient
A tank focused water conditioner will be too expensive as a pond based solution. Pond Prime is an inexpensive solution for ponds. The 500 ml costs $15.88 only, which is slightly higher than traditional Prime. But you are only going to use it sparsely in pond, as per dosage instructions. The larger the quantity you are ordering, the lesser it will cost per treatment. The 4 L can costs $87.35, which seems a worthy investment considering, Pond Prime is must have, for any aquatic pond. Considering the slew of conditionings it does to the Pond, Seachem Pond Prime pays for itself.
Best Practices
Use Pond Prime while setting up a new pond, during water change or while introducing new fishes. While detoxifying excess nitrites, you can do five times the normal dose. When the temperature is below 30 C, or when chlorine and ammonia levels are low, limit the dosage by half. Do not go for a water change within two days of treatment. Don't dose in conjunction with other medications.
Pros
Handy solution to pond issues
Promotes natural slime coat
Effectively treats chlorine and chloramines
All-in-1 type of solution
Cons
Not concentrated more than Prime
Becomes expensive during double dose
Conclusion
Seachem Pond Prime detoxifies ammonia, breaks down nitrites, treats chlorine and chloramines, and promotes a natural slime coat in fishes. Counting all these benefits, Pond Prime is definitely worth every penny you spend on it. It is thus a must have all in one, water conditioner kit to keep your pond clean and healthy. It produces results that are promising to any aquarium. Importantly, it effectively does what it is advertised to do.
Bottomline: Seachem Pond Prime is a must have to your aquatic pond during all times of year.
I hope you liked this review.Please do let me know your thoughts in comments! Also do Check out my review on Seachem Prime Water Conditioner Review
Seachem Pond Prime Water Conditioner
USD