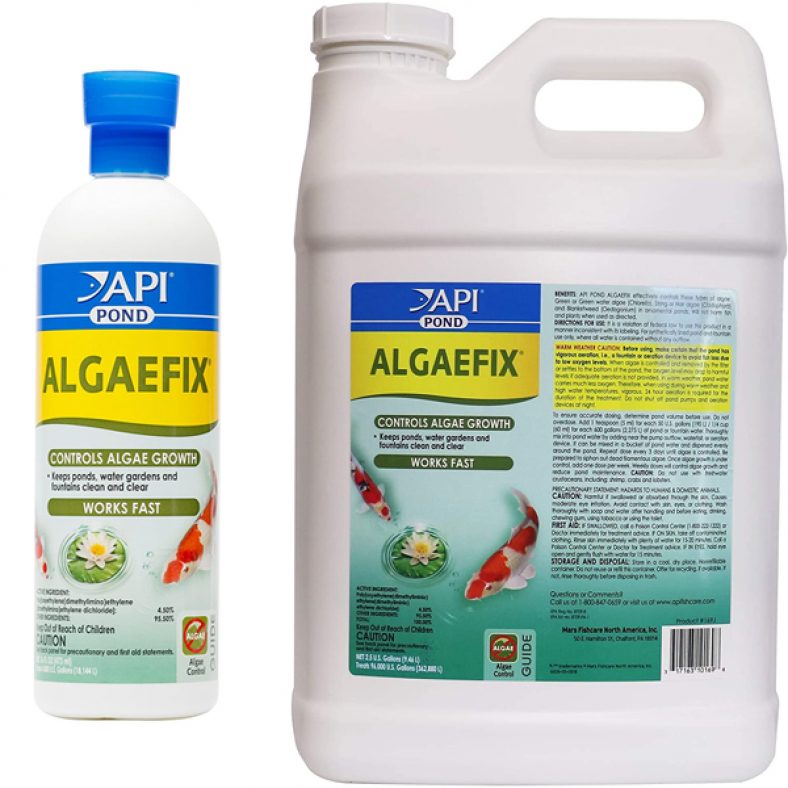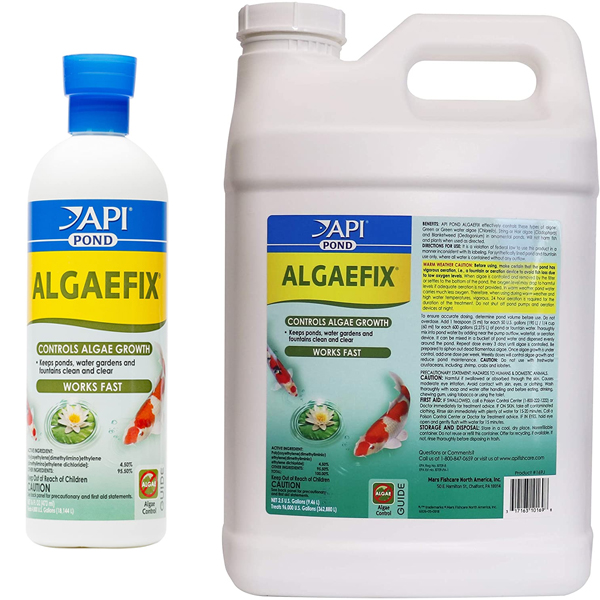 Algae are something you definitely don't want in your pond. It's not just about the fishes, but about plants as well. Firstly, algae make your pond look dirty by infesting your entire pond. Algae will be the first thing visible to anyone's eyes while viewing your pond. It makes the pond look under-maintained or abandoned. You may not even be able to see your colorful Koi and other fishes. Secondly, you don't want algae covering your good plans. If it does, your plants stop growing altogether. Algae are not something you want it in your pond or literally anywhere. Read further to know our review on API Pond ALGAEFIX Algae Control. Check this product on amazon here: https://amzn.to/3Fcn0U7
Removing algae can be such a messy process depending on the level of infestation. After a point, you must consider treating your pond for algae. There are not many natural methods available in this space. Most of the organic matter encourages the growth of Algae. Amongst the commercially available solutions, API Pond ALGAEFIX Algae Control is the best option out there. It's so effective in treating 70-80% of the algae that exists in ponds. Its high potency is certainly a double edged sword considering the possibility of disturbing the eco-system upon excessive dosage. Let's look at different aspects of this amazing product.
Potency of API ALGAEFIX Algae Control
On the label, API claims that ALGAEFIX keeps your pond clean and clear. That's the only marketing gimmick in the label. Certainly, you need to do a lot more things than just using ALGAEFIX for the clean and clear pond. Besides that, ALGAEFIX does everything it claims to do. As seen on label, this product works fast. It's billed to control three major types of algae – green water algae, hair algae and blanketweed algae. In reality, it covers even more types of algae that frequent ornamental ponds.
The product is so potent that you are going to see dead algae in less than a day. By any count, it does work on up to 80% of the algae population. It works by cutting off the oxygen supply that is crucial to algae growth. With top ingredients, it feels superfluous for ornamental ponds. It's so potent that, overdosing your pond with it would count as federal violation. Federal guidelines limit you to use it only on totally contained ponds with no water outflow.
API Pond ALGAEFIX Algae Control 64oz Bottle with Bottle Pump and 10ct Pet Wipes
Contains one (1) API POND ALGAEFIX Algae Control 64oz Bottle; treats up to 38,400 U.S Gallons, 1 Pump and 10ct Pet Faves pet wipes
Helps resolve algae problems and controls the formation of new algae; works fast; effectively controls most types of algae including green water (Chlorella), string and hair algae (Cladophora), blanket weed algae (Oedogonium) in ponds, koi ponds and fountains
This EPA-registered pond algaecide will not harm fish, plants, surrounding wildlife and pets when used as directed
Does not contain copper
Before use, make certain that the pond/fountain has vigorous aeration; thoroughly mix into pond/fountain water and disperse evenly; Repeat dose every three days until algae is controlled; dose weekly to keep pond or fountain clean and clear and to reduce maintenance
Harmful side-effects
Can this product kill my plant, shrimp or fish? The long and short answer is yes. If you dose too much, it can kill sensitive fish breeds like discus and some of the plant species. When you dose too much, your fishes can be starved of oxygen and the plants just melt away. Vallisneria and guppy greens are prone to getting affected, while stem plants do just fine. It may or may not kill mosses, regardless of the dosage. If you have shrimps, crabs, lobsters or other freshwater crustaceans, ALGAEFRESH is a big no-no. If ingested, the solution can be harmful to humans and other animals. In addition, we strictly advise to follow every bit of instructions on the label, prior to usage.
Critical Dosage
We cannot overemphasize on proper dosage of ALGAEFIX. The instructions read, 1 teaspoon (5 mm) per 50 U.S gallons of water. Considering the high potency, use a specific measuring cup. Medicine cups and syringes work just as fine too. A turkey baster can come in handy with precise measurements and spraying them on spots. You should ideally spray it where air pumping is going on. Repeat the dosage every three days till the dis-infestation is complete. The water should turn to transparent and clear after days of being green or blue. Take out the dead lament us algae manually. You can use regular dosage every week to reduce maintenance needed for the pond. When used as directed, it works fast to clean up water gardens and fountains.
Safety precautions
Though the proper dosage is safe, we suggest under dosing a tiny bit. You can always come back to dose again in the following day. At least, you can be sure that you are not overdosing and killing the fishes. In addition, you can consider adding extra aeration to your pond. You need something to move the water around, such as an air pump or water pump. Ensure there is vigorous aeration prior to using API Pond ALGAEFIX on your pond. During warm weather when the water carries lesser oxygen, continuous aeration becomes essential. Consider not turning off the aeration devices and pond pumps at night.
Is it a complete and permanent fix?
As discussed in the previous sections, ALGAEFIX doesn't work on all types of algae. For instance, it doesn't work well on Staghorn algae. Moreover, it only kills existing algae and prevents them from growing. Nevertheless, it does not prevent algae from coming back. Simply put, it is not the permanent fix to the algae issue in your pond. You need to concentrate on other factors that cause formation of algae. Unless you are not addressing the underlying issue, there cannot be a permanent fix. We suggest people not to purchase this product until they understand what's going on in their pool.
Similarly, we do not suggest resorting to continuous use of ALGAEFIX as permanent solution for your algae problem. At the very least, manually try to take out algae on a regular basis. Cut leaves where these algae grow and clean filters if it's infested as well. ALGAEFIX acts as a temporary nuke against all existing algae in the pond. It is neither complete nor permanent fix to the issue.
Pros
Works on most types of algae
Extremely potent solution
Works amazingly fast
Easy to use
Cons
Kills crustaceans and mosses
Severe overdosing hazards
Conclusion
When it comes to clearing algae in the pond, API Pond ALGAEFIX Algae Control is the best product out there. It's such a potent algae control product that warrants federal violations upon excessive dosage. Keeping an eye on possibilities of overdose is of paramount importance. Strictly avoid using ALGAEFIX, if you have prized mosses, shrimps, crabs, lobsters or other crustaceans.  Improve aeration in your pond when treating with ALGAEFIX.
Bottomline: It's a potent treatment that works amazingly fast against algae in your pond.
I hope you liked this review.Please do let me know your thoughts in comments! Also do Check out my review on API TAP Water Conditioner Review