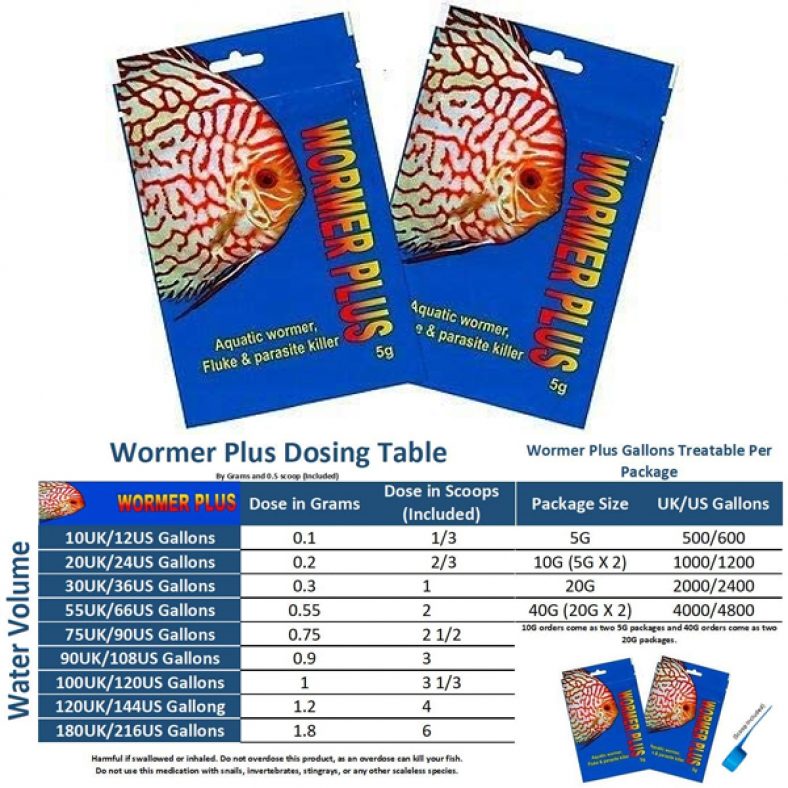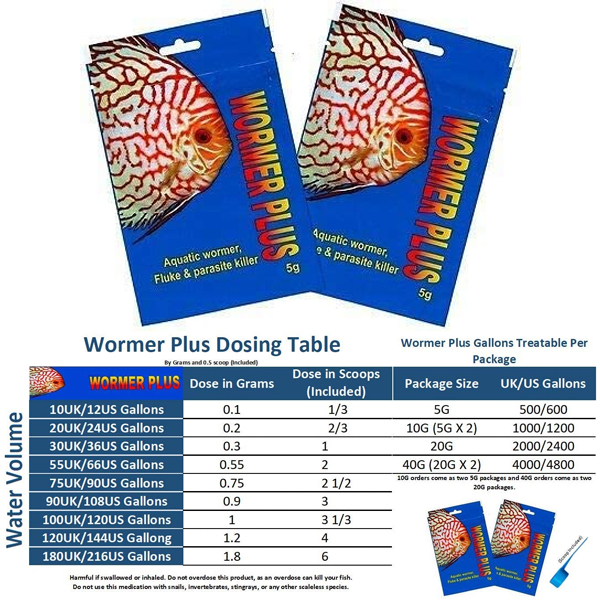 Worms, flukes and parasites disturb the entire balance of an aquarium tank. The smaller breeds start getting thin in really quick time. The fishes start to develop excess slime and turn dark. They keep darting through the tank or starts hiding more often. Visibly, you can notice zits, blisters, wounds and cloudy eyes developing on your fishes. In addition, they show lesser interest in eating and the feces starts turning white. Sometimes, you may clearly see rotting and presence on fungus. The mood of the tank can get worse and eventually the fishes start dying. You must address the issue promptly and fix it. Kusuri Wormer Plus is one such product reviewed in this article.
The simple and straightforward solution is to de-worm your fishes. There are quite a few effective d-wormers that do the job without much fuss. Getting a de-wormer locally can be challenging. A lot of pet stores usually run out of stock, when it comes to de-wormers. By ordering something online you can spare yourselves from few unsuccessful trips to the pet shops. One of the really good products you can find online is Kusuri Wormer Plus. This product has been used for years by people all around the world. It is available in four different sizes – 5 grams, 10 grams, 20 grams and 40 grams. The higher the quantity, the lower is the price per grams. Check this product on amazon here: https://amzn.to/32XqUTW
Kusuri Wormer Plus deworms and fends off against parasites. It works well on Discus, Gold fish, Angel fish and other prized fish breeds. It's perfect for all the fresh water aquarium fishes. This flubendazole based medication is potent against various types of flukes and internal worms. It works by starving off the parasite and eventually killing them. In addition, you can get rid of all the pest snails in your tank. Causing no harm to the bacteria in the filter, this medication doesn't disturb the bio bed. It's a simple to use product that comes in powdered form and packed in sachets. In its powdered form, it's simple to use and very effective as well. This wormer plus for discus works well with discus fish as well.
How it works?
Flubendazole is the major ingredient in Wormer Plus. In regards to toxins, it rates better than Praziquantel. It works by starving the parasite, thus making Wormer Plus safe for regular usage. A tiny amount of natural calcium carbonate is added to balance the slight drop in PH caused by Flubendazole. It is quite easily picked up by your tank once the parasites are killed. Simply put, this product smartly mixes its ingredients to ensure the chemical composition in aquarium remain undisturbed.
Understandably a Prazi alternative works faster, but not without toxin related side effects. Moreover, Flubendazole works great against different types of flukes and internal worms. The list includes Gill flukes, body flukes, Roundworms, Flatworms, Tapeworm, Sanguinicola and more. In addition, it's a simple to use medications that causes no harm when used as instructed. The 30 gallon measuring scoop makes it easy to administer Wormer Plus in your aquarium. You should check out for further instructions on back of the pack.
Plymouth Discus Product WORMER Plus - Freshwater and Saltwater Fish Powder Medication. With parasites and Flukes. (5G - Treats 600 GALLONS)
Prevent nasty parasites from your Discus, Angel fish and other prized aquarium fish. It is harmless to most fresh water tropical fish.
Flubendazole is the effective main active ingredient, and works differently to other Fluke treatments by gently starving the parasite; making this product perfectly safe for regular usage.
Wormer Plus cleverly balances out its ingredients making very little (if any) difference to PH when using wormer plus.
Safe to use on most tropical fish and salt water fish. Will not harm plants, or chemical filtration. Can be used in conjunction with other medications. No need to remove or unplug your UV sterilizer (just remove any activated carbon for full effect).
Effective for use against Gill Flukes, Body Flukes, Parasites, Intestinal Helminths. Including Tapeworm, Nematodes (Roundworms), Planaria (Flatworms), Capillaria, Camallanus Nematodes, Metacercaria, Sanguinicola and Intestinal Protozoa. It is also an effective in eradicating pest snails from your tank.
Ideal Usage
Measure the right dosage for your tank in terms using tea spoon. Clear the tank off any pet snails or sensitive fishes like stingray. Take out some water from the tank using a cup. Pour the right dosage into the cup of water and stir it with tea spoon. Pour the cup of water back into the tanks in installments. Make sure, the Wormer Plus solution is evenly disbursed throughout the tank. Let Wormer Plus do its job for 1-2 days. Monitor the change in color of your prized fishes. Repeat the process once again in the week, if the change isn't satisfactory.
Dosage details
Any de-worming solution causes harm to your prized fishes when you overdose the tank. As per instructions, the dosage is 1 gram per 100 UK gallons (120 US gallons) of water. A teaspoon will measure just about 5 grams. For instance, your 54 gallon tank will need just about 0.5 gram. The smallest of packs contains 5 grams of the Wormer Plus. By dosage calculations, a 5 gram packet provides 10 treatments for your 54 gallon tank. You can only dose your tank twice per week. Unless your parasitic problems don't frequent your aquarium setup, this is not product for routine use. Do not rely only on Wormer Plus as your long term de-worming solution.
Side effects
Wormer Plus is guaranteed killer of snails and scale-less fishes. Unless you want to get rid of pest snails, this product has no place in snail inclusive tank. Collect all the snails and place it in another pot during treatment. Wait for at least 48 hours before introducing snails back into your tank. Scale-less breeds such as stingray are sensitive to the concentration. Make sure you do not nuke them with this otherwise safe product. Like snails, these invertebrates have to be placed in another tank for at least 48 hours before safely letting them into the original tank. Moreover, an overdose of Kusuri Wormer plus harms your prized fish regardless of its breed.
Precautions
The company instructs bringing back snails and sensitive fishes after 2 days. To be on the safer side, wait out an extra day. Meanwhile, consider doing a 25-50% water change. Regardless, water change brings aquarium setup back to normalcy and makes it more habitable. For best results, remove filters that have activated carbon in it. Activated carbon can absorb everything and make the product ineffective.
Pros
Surefire way to deworm fishes
No inevitable side effects
Ease of use
Doesn't disturb pH levels
Cons
Not as potent as Praziquantel
Works a tad bit slower
Conclusion
Wormer Plus from Kusuri is a surefire way to de-worm your prized fishes. It gives great results on discus, angel fish and gold fish. If used as instructed, you will see no side effects. The instructions are quite easy to follow as well. Thanks to natural calcium carbonate, the pH levels in the tank remain undisturbed. Additionally, the product doesn't kill the aquarium bacteria at filter or anywhere. Overall, it returns great value for your investment towards aquarium maintenance.
Bottomline: By gently starving parasites to death, Wormer plus works effectively without any inevitable side effects.
I hope you liked this review.Please do let me know your thoughts in comments! Also do Check out my review on API Pond ALGAEFIX Algae Control Review