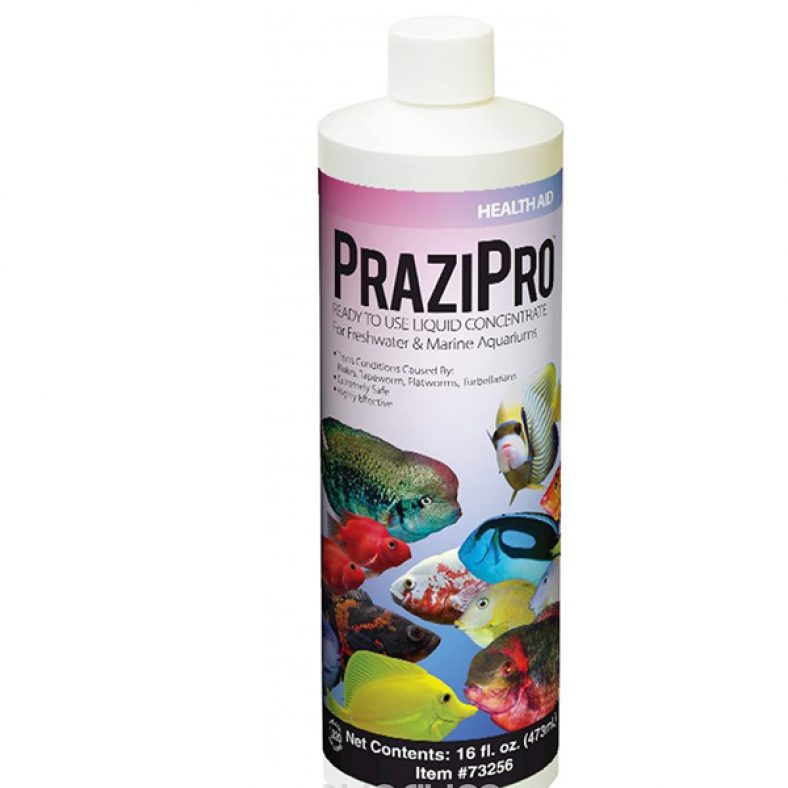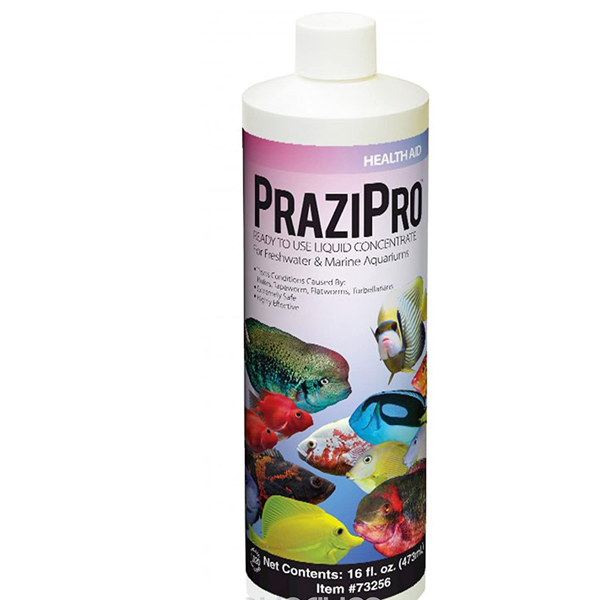 Hikari PraziPro is a ready-to-use liquid concentrate for both freshwater and marine tanks. It treats a range of parasites that is common on fishes including flukes, lasis, turbellarians, tapeworm, flatworm and other intestinal worms. Hikari PraziPro is a very potent and considerably safe medication. It is non-toxic to plants and fishes in your aquarium. One pack contains 16 ounce or 473 ml of PraziPro. It weights a little over 1 pound and the dimensions are 2.5″ x 2.5″ x 8″. This is such type of treatment that won't interfere with other medications in any way. This Praziquantel based concentrate is highly potent against intestinal worms in fishes. Hikari PraziPro is easily one of the best deworming solution you can get at this price point. Let's see what all things you need to consider before buying in this Hikari Prazipro Review. Meanwhile check this product on amazon here: https://amzn.to/3f8DuSM
Praziquantel based concentrate
Usage of the drug, Praziquantel (PZQ) is well documented in the field of medicine. It can be used to treat parasitic infection and infestation in animals. In treats the ectoparasities located at the skin and gills of your prized breeds. In order to get rid of these parasites, the PZQ concentration has to be maintained for at least 2-3 days in your tank. The PraziPro comes in the form of liquid concentrate, which is just about perfect for the job. This medication is one of the finest microbial treatments in aquarium settings. It's proven that the concentrations never exceed the therapeutic levels of fishes nor it ruins the water quality in aquarium tank.
Treatment cycle
Remember to treat the entire tank and not quarantine a specific area. Complete a water change of 50-75% prior to the treatment. Remove carbon installed in the filer, since it can absorb the concentrate. Add PraziPro according to the dosage instructions on the bottle. Wait for 3 days for the Praziquantel to deactivate. Do a water change of at least 25% on day 4. Rinse and repeat process on a weekly basis to get rid of flukes. The follow up is important to eliminate freshly hatched fluke eggs. If your fish seems overly infected, treat tank with chelated copper, prior to the treatment.
Marketing fails
One of the major marketing gimmicks is the claim of eliminating all flukes following a single treatment. Generally, the life cycle of fluke is over 3 weeks. Hence you will need at least 3 treatments to get rid of all the parasitic worms and flukes in your tank. You can always extend after three treatments, if you feel necessary. Constant monitoring of your fishes is the key to getting done with the worm situation. The idea is to medicate for full life cycle of these parasites rather than giving one-off treatment.
Similarly, one of the blunders from Hikari is not marketing this product for ponds. As much as aquarium tanks, pond fishes do need deworming from time to time. PraziPro works just as effective on pond breeds like koi as well. It is not just limited to aquarium breeds like discus, gold fish and angel fish alone. Some spillage of powder will be there when you try to medicate a pond. However, the powder will dissolve eventually and start treating the entire pond. A pack of PraziPro treats close to 2000 U.S gallons.
Hikari PraziPro as preventive measure
PraziPro can be one of the preventive measures in your fresh water tank. If you are introducing some wild caught aquarium fish, you are likely to bring along flukes and worms. You want to get rid of them as early as possible. These worms tend to slow down your fish and make them look sick. Even worse, it can make fishes dart or die. It adds to the stress of the fish, which reflects in their appearance and behavior. If you are using PraziPro as part of the preventive measures, you won't be forced to medicate the tank multiple times in the future. We already know that Prazi can create toxins when used regularly in your tank. That one ounce of prevention helps escaping the inevitability of little toxins in the future.
Using with other medications
Hikari PraziPro can be used in conjunction with several medications such as Seachem Prime and other water conditioners. They can be used along with marine salts. There is no way PraziPro disturbs their modus operandi. Moreover, it doesn't disturb the ecology of the tank. For instance, the bacterial bed in the tank will not be disturbed. Hikari markets this aquatic product as a health aid. There is less chance that the Hikari PraziPro can cause many changes to the life elements of the tank. It is only intended to combat the internal parasites such as flukes, lasis, turbellarians, tapeworm, flatworm and other intestinal worms.
Side effects of Hikari Prazipro
PraziPro can be fatal to your snail and pod population. Even crabs are at the same level of risks. Mostly, they start dying after the first day of treating of PraziPro. In addition, an overdose can easily kill beta and other sensitive fish breeds. These fishes will otherwise respond fine to low dosage. Unlike, Praziquantel can be harmful if used on a regular basis. The higher the water change, the safer it gets. Go slightly under the recommended usage when have sensitive fishes in your aquarium tank.  Take as much precautions when dealing with the potent PraziPro.
Pros
Usage of Praziquantel is well documented
Works best against intestinal worms
Treats close to 2000 U.S gallons
Works on tanks as well as ponds
Light and handy product
Cons
Creates toxins upon regular usage
Concentrated chemical solution
Conclusion
Praziquantel is the prime ingredient of PraziPro, which can cause adverse effects upon excessive usage. Using PraziPro as preventive treatment helps avoid using them as many times. Even while dosing for parasitic condition, dose only for three rounds. Besides that, it doesn't affect the water quality or bio-beds. It doesn't change water color or bother fishes. The ideal usage for infestations is to treat for full cycle of flukes. It can be used to treat freshwater and marine aquariums as well as koi ponds. One of the minor drawbacks is the bad packaging, where you need to take additional care. Overall, it's a handy product that guarantees elimination of flukes and intestinal worms.
Bottom-line: This highly effective and extremely safe product is the best out there in what it does.
I hope you liked this Hikari Prazipro Review. Please do let me know your thoughts in comments! Also do Check out my review on API Pond Stress Coat Water Conditioner Review
Pros
Usage of Praziquantel is well documented
Works best against intestinal worms
Treats close to 2000 U.S gallons
Works on tanks as well as ponds
Light and handy product
Cons
Creates toxins upon regular usage
Concentrated chemical solution